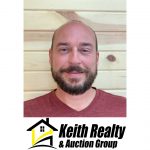 Can we get an inspection on just the main structural items to save money? Are all three bedroom two bath homes going for about the same amount of money? Am I cheaper to buy or build a house? What are interest rates on a loan right now? Do you have to have your septic pumped to sell your house? Can I sell my house without having to deal with inspections?
"QUOTES"
"The secret to getting ahead is getting started." – Mark Twain
We apologize, we have been having technical difficulties and due to that our podcast was cut a little short:(
Trent is a realtor with Keith Realty based out of Spencer, Indiana. He would love to answer any questions you may have about real estate. Simply send us an email at questions@keithrealty.net and we'll do our best to get your question answered!
#keithrealty #realestatequestions #realtorpodcasts #realestateanswers #realestateadvice101 #indiana #spencerindiana #owencounty #unitedstatesrealtors #sellingahome #buyingahome #2021 #homesforsale #trentkeith