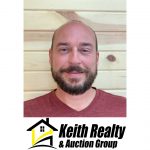 What do I do if my inspections show things that need fixed and I cannot afford? Should I give any earnest money with offer? Can I get a loan on a house that is on posts? Can I get a foreclosure with my USDA loan? Can I buy a home with $50,000 cash?
~ weekly quote~
"The number one skill in life is not giving up." – Bryant McGill
Trent is a realtor with Keith Realty based out of Spencer, Indiana. He would love to answer any questions you may have about real estate. Simply send us an email at questions@keithrealty.net and we'll do our best to get your question answered!
#keithrealty #realestatequestions #realtorpodcasts #realestateanswers #realestateadvice101 #indiana #spencerindiana #owencounty #unitedstatesrealtors #sellingahome #buyingahome #2021 #homesforsale #trentkeith