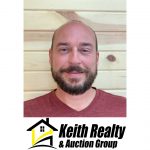 In this podcast we discuss: Your Questions!!
Can you buy rentals with no money down? Will banks loan on rental properties the same as they do for a personal house? How long do you usually list a house for sale? Should I sell my land all by itself or should I put a house on it first? Which would you get me more money? Should I sign a contract to buy a house if the seller says he won't record the contract? Can I sublease my apartment? How does it work?
Brothers-in-law Trent and Ethan are realtors with Keith Realty based out of Spencer, Indiana. They would love to answer any questions you may have about real estate. Simply send us an email at questions@keithrealty.net and we'll do our best to get your question answered!
#keithrealty #realestatequestions #realtorpodcasts #realestateanswers #realestateadvice101 #indiana #spencerindiana #owencounty #unitedstatesrealtors #sellingahome #buyingahome