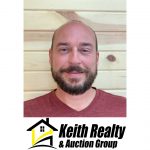 Do I need to to stage my home to sell it? What is the first thing that gets peoples attention when showing my house? Don't I want to list my house as high as possible because I can always come down in price later? Are you guys full time real estate agents? What is your main strength in real estate? Are homes staying on the market longer now? Does it benefit me to switch realtors if my current realtor is not getting any offers on my house? Is Zillow accurate on home prices?
QUOTES
"Ninety percent of all millionaires become so through owning real estate." -Andrew Carnegie
""Then the Grinch thought of something he hadn't before! What if Christmas, he thought, doesn't come from a store. What if Christmas… perhaps… Means a little bit more!" – Dr. Seuss
Brothers-in-law Trent and Ethan are realtors with Keith Realty based out of Spencer, Indiana. They would love to answer any questions you may have about real estate. Simply send us an email at questions@keithrealty.net and we'll do our best to get your question answered!
#keithrealty #realestatequestions #realtorpodcasts #realestateanswers #realestateadvice101 #indiana #spencerindiana #owencounty #unitedstatesrealtors #sellingahome #buyingahome #christmas2020 #homesforsale #trentandethan