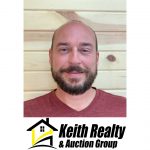 In this podcast we discuss: Your Questions!!
Who decides the list price? Do sellers always expect lower offers? Will a full price offer guarantee I will get the property? Can I switch realtors in the middle of a transaction? Do appraisals ever kill a sale? Can I ask for furniture to be included in a sale? What are signs of an over priced house? How do I find a good deal on a home?
Brothers-in-law Trent and Ethan are realtors with Keith Realty based out of Spencer, Indiana. They would love to answer any questions you may have about real estate. Simply send us an email at questions@keithrealty.net and we'll do our best to get your question answered!
#keithrealty #realestatequestions #realtorpodcasts #realestateanswers #realestateadvice101 #indiana #spencerindiana #owencounty #unitedstatesrealtors #sellingahome #buyingahome