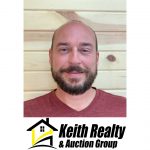 In this podcast we discuss: Your Questions!!
How much money do I need to buy a house? If I am approved for a loan and decide to just buy land instead of a house will that work with my pre-approval letter? How long does it take to close on my property if my offer is accepted? What do I do it they find issues during the inspection that makes me nervous about proceeding with my deal? Should I buy a house when I do not want any maintenance work or up keep on a property? Why does it matter what real estate agent I use? I just call the name on the sign when I see a property I'm interested in.
Brothers-in-law Trent and Ethan are realtors with Keith Realty based out of Spencer, Indiana. They would love to answer any questions you may have about real estate. Simply send us an email at questions@keithrealty.net and we'll do our best to get your question answered!
#keithrealty #realestatequestions #realtorpodcasts #realestateanswers #realestateadvice101 #indiana #spencerindiana #owencounty #unitedstatesrealtors #sellingahome #buyingahome