I Am Moving To A New Location And I Think Might Have To Buy A New House Without Seeing It First. What Are Some Tips For Doing That?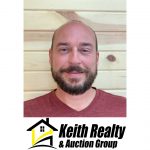 Today we discuss your questions: I am moving to a new location and I think I might have to buy a new house without seeing it first. What are some tips for doing that? What are the downsides of accepting an offer from someone who hasn't talked to a bank yet? Do you think the housing market will rebound in a few months? What do I do if the house I really want has foundation issues?
Brothers-in-law Trent and Ethan are realtors with Keith Realty based out of Spencer, Indiana. They would love to answer any questions you may have about real estate. Simply send us an email at questions@keithrealty.net and we'll do our best to get your question answered!
keithrealty #realestatequestions #realtorpodcasts #realestateanswers #realestateadvice101 #indiana #spencerindiana #owencounty #unitedstatesrealtors #sellingahome #buyingahome