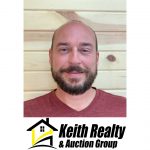 No local or state fairs… so we created a contest for you instead!! Listen to the podcast, go to our socials, or go to our website to see how to enter this contest! You won't want to miss this!!
Today we discuss your questions: What special steps do I need to take if a house is in the floodplain? Does a metal roof add more value to a house than a shingle roof? Is it a bad idea to buy a house on contract? Does Spencer have any good walking trails? How many times can you make an offer on a house if the seller keeps rejecting them? I've lost out on several houses because someone offered more than me. When I find another house I like, how do I know how much to offer to make sure to get it?
Brothers-in-law Trent and Ethan are realtors with Keith Realty based out of Spencer, Indiana. They would love to answer any questions you may have about real estate. Simply send us an email at questions@keithrealty.net and we'll do our best to get your question answered!
#keithrealty #realestatequestions #realtorpodcasts #realestateanswers #realestateadvice101 #indiana #spencerindiana #owencounty #unitedstatesrealtors #sellingahome #buyingahome