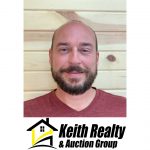 In this podcast we discuss: Your Questions!!
Should I get a survey of a property before buying it? Should I get a home inspection of a property before buying it? Would you ever buy a home based on a virtual walk-through without seeing it? What are the chances of me finding a livable home for 50k cash? Should I go with a 20 year or 30 year home loan? How long does it usually take to tour a home for sale? Can I buy a home with no money down? How stressful is the process after I find a home I like and want to make an offer?
Brothers-in-law Trent and Ethan are realtors with Keith Realty based out of Spencer, Indiana. They would love to answer any questions you may have about real estate. Simply send us an email at questions@keithrealty.net and we'll do our best to get your question answered!
#keithrealty #realestatequestions #realtorpodcasts #realestateanswers #realestateadvice101 #indiana #spencerindiana #owencounty #unitedstatesrealtors #sellingahome #buyingahome