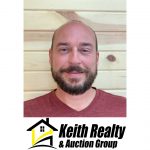 In this podcast we discuss: Your Questions!!
Can I lose my earnest money check? Should I go with a cheaper home that will work or stretch my budget for my dream home? Should I get my home staged by a professional? Can I buy a house on contract? How does that work? What steps should I take if a family member wants to buy my home? Should I go with a cash offer on my house over a bank financed offer, even if the cash offer is less? Is it a bad idea to view a house for sale when it is dark out?
"Two things are infinite: the universe and human stupidity; and I'm not sure about the universe." – Albert Einstein
"I have no special talents. I am only passionately curious." – Albert Einstein
Brothers-in-law Trent and Ethan are realtors with Keith Realty based out of Spencer, Indiana. They would love to answer any questions you may have about real estate. Simply send us an email at questions@keithrealty.net and we'll do our best to get your question answered!
#keithrealty #realestatequestions #realtorpodcasts #realestateanswers #realestateadvice101 #indiana #spencerindiana #owencounty #unitedstatesrealtors #sellingahome #buyingahome